Collective Trust - Free Download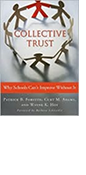 This text describes the empirical investigation and theoretical development of collective trust in schools over three decades. The authors provide researchers and scholars with a sound theoretical framework as well as a set of valid and reliable measures to study collective trust. Further, the book offers practitioners a set of useful tools to evaluate the culture of trust in their schools with the aim of school improvement.
Click Here to Download the Collective Trust Book

Collective Trust:
Why Schools Can't Improve Without It
Patrick B. Forsyth-University of Oklahoma
Curt M. Adams-University of Oklahoma
Wayne K. Hoy-Ohio State University
TABLE OF CONTENTS
PART ONE - Foundations of Collective Trust
1. Early Studies in School Trust
2. Conceptual Foundations and the Formation of Collective Trust
3. Measuring Collective Trust in Schools
PART TWO - Research on Collective Trust
4. Antecedents of Collective Trust: School Evidence
5. Consequences of Collective Trust: School Evidence
6. Collective Trust and School Effectiveness
7. Collective Trust and Leadership in Schools
8. Collective Trust as a Condition of Social Capital and Academic Optimism
PART THREE - Practice and Synthesis
9. Educational Policy and School Trust
10.The Practice of School Leadership and Collective Trust
EPILOGUE
APPENDICES
REFERENCES
INDEX
ABOUT AUTHORS
Copyright © 2015 by Forsyth, Adams, and Hoy
All rights reserved. No part of this publication can be reproduced or transmitted in any form without permission of the authors.
Click Here to Download the Collective Trust Book